Starts: 2018/11/21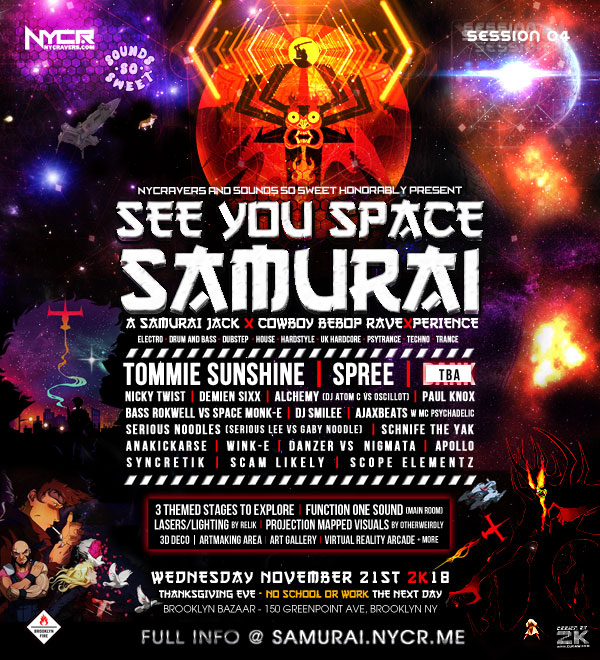 FACEBOOK EVENT |
TICKETS

NYCRavers & Sounds So Sweet Present....
SEE YOU SPACE SAMURAI​
A Samurai Jack & Cowboy Bebop Thanksgiving Eve Cosplay Rave
***NO SCHOOL / WORK THE NEXT DAY***

This Thanksgiving Eve in NYC get ready to rave with honor as NYCR and Sounds So Sweet"s Present
See You Space Samurai. Experience 3
themed rooms of sound, lasers and mind-bending art. Featuring rave legend Tommie Sunshine, DJ
Paul Knox / Spree, Nicky Twist, Demien Sixx,
Alchemy and many more. Plus Virtual Reality Arcade, UV Art Installations, Digital Artmaking
Stations, Unique vendors and most importantly top
quality vibes. This 21+ event is going down at the Brooklyn Bazaar, 150 Greenpoint Ave, Brooklyn,
NY.

GET TICKETS

───────────────────────────

+ + + THE SAGA CONTINUES + + +

Long ago in a distant rave, Mainstream EDM, the shape shifting master of conformity, unleashed an
unspeakable lameness into the rave scene.
When all hope seemed lost honorable samurai promoters wielding a magic lineup stepped forth to
oppose them. Before the final beat was
struck, the villains tore open a portal in time and flung the samurai into the future where their
lameness is law. Now the dancefloor warriors
seek to return to the old school and undo the evil that is the Mainstream.

───────────────────────────

+ + + LINEUP + + +

✪ TOMMIE SUNSHINE ✪
(Brooklyn Fire, NY) *FUTURE HOUSE*
www.soundcloud.com/tommiesunshine

Tastemaker to tastemakers and musical-icon, Tommie Sunshine is renowned for his reputation of
being consistently ahead of the curve while
still standing firmly in the zeitgeist. Set apart by his iconoclastic productions, he is regarded as one
of today?s most prolific remixers with well
over 300 commissioned remixes to date. Tommie's often spoken about DJ sets have landed him on
the Main Stage of Ultra Music Festival three
years running, the Hard stage at Electric Daisy Carnival Las Vegas, Australia's Stereosonic, opening
for Afrojack at Pier 94 on NYE, playing
alongside Skrillex for his Brooklyn "Takeover" and an East Coast run of dates opening for Zedd.

Whether as a producer, DJ, artist, dance music historian or social media provocateur Tommie brings
a unique enthusiasm to his craft; one that is
fueled by his encyclopedic (if not obsessive) knowledge of underground and pop music spanning the
last half-century. This brought him to
moderate & sit on panels at Amsterdam Dance Event, South by Southwest, Electronic Music
Conference in Sydney Australia, New Music
Seminar, Ibiza Music Summit, CMJ, Winter Music Conference and EDMbiz. Sunshine has appeared
on Katie Couric's day time talk show Katie,
interviewed by Peter Jennings for ABC, appeared on BBC radio & TV, A&E, VH1, NPR and on
occasion writes on sites such as Huffington Post
known to cause an uproar in his firm stance on many issues most won't dare talk about.


"The Midwest Originator"
✪ DJ SPREE ✪
(Minneapolis, MN) *UK HARDCORE*
www.paulknox.net | www.soundcloud.com/craigspree

Spree has been one of the top High-Energy Dance providers in North America since 1997. He's
painted smiles across the faces of thousands of
kids as a headliner in just about every major US and Canadian city in that time. Spree has put out
dozens studio mixed compilations in the past,
ranging from 1994/95 style breakbeat/piano filled hardcore to the latest up to date anthems. All of
these mixes are available online for free
download. Spree records almost every one of his live sets via a portable mini-disc recorder. As long
as the set records properly, it will be placed
on-line in mp3 format for free download.

✪ XXXX ✪ (STILL TO BE ANNOUNCED)

✪ NICKY TWIST ✪
(BP? / Bass Monster Music / Groove Therapy Records, NY) *ELECTRO*
www.soundcloud.com/nickytwist

✪ DEMIEN SIXX ✪
(DSixx Records, NJ) *DUBSTEP / ELECTRO*
www.demiensixx.com

✪ ALCHEMY ✪ (DJ Atom C vs Hocus Pocus)
(Forbidden Fruit Collective / NYCR , NJ/NY) *MULTI GENRE*
www.djatomc.com

✪ PAUL KNOX ✪
(Minneapolis, MN) *HOUSE*

✪ BASS ROKWELL vs SPACE MONK-E ✪
(Serious Sound Prod. vs Smooth Villain Records) *HOUSE*
www.soundcloud.com/bassrokwell-jaguarpaw | www.soundcloud.com/space-monk-e

✪ DJ SMILEe ✪
(Brooklyn Underground / NYCR, NY) *OLD SCHOOL TRANCE SET*
www.soundcloud.com/djsmilee

✪ AJAXBEATS ft MC PSYCHEDELIC ✪
(NYCR / Konkrete Jungle, PA/NY) *DRUM AND BASS*
www.ajaxbeats.bandcamp.com | www.soundcloud.com/anthony-rich-2

✪ SCHNIFE THE YAK ✪
(Sounds So Sweet, NY) *HARD DANCE*
www.soundcloud.com/schnife-the-yak

✪ ANNAKICKARSE ✪
(Webster Hall, NYC) *METAL DUBSTEP*
www.soundcloud.com/annakickarse

✪ WINK-E ✪
(Paradox Productions,NY) *HARDSTYLE*
www.soundcloud.com/wink-e

✪ SERIOUS NOODLES ✪ (Serious Lee vs Gaby Noodle)
(Serious Sounds / NYCRavers, NY/PA ) *MULTI GENRE*
www.soundcloud.com/s3riousl33

✪ DANZER vs NIGMATA ✪
(NYCR / , NY/NJ) *PSYTRANCE*
www.soundcloud.com/kyouchida | www.soundcloud.com/nigmata

✪ APOLLO ✪
(Schimanski, NYC) *HOUSE*
www.soundcloud.com/official_apollo_music

✪ SYNCRETIK ✪
(Sounds So Sweet, NJ) *TECHNO/BREAKS
www.soundcloud.com/syncretik

✪ SCAM LIKELY ✪
(Ravers Unite, NYC) *HOUSE/TECHNO*
www.soundcloud.com/scmlkly

✪ SCOPE ELEMENTZ ✪
(Reckless Dream Productions, NJ) *HARD HOUSE*
www.soundcloud.com/scope_elementz

───────────────────────────

+ + + 3 THEMED STAGES + + +

Aku's Time Portal, Samurai Jacks Castle and The Bebop will be waiting for you to explore.

───────────────────────────

+ + + TOP QUALITY PRODUCTION + + +

─ FUNCTION ONE SOUND in the main room.
─ GFX Lasers, Blacklights, and Intelligent lighting by Relic
─ Projection Mapped Visuals by Other Weirdly
─ 3D Deco Installations Including : 2 Giant Akus, The Swordfish from Cowboy Bebop and Samurai
Jack's Castle
─ Blacklight Reactive Space Samurai Art Gallery featuring work by: Aeryk 2k, Zo? Rae Stratton
and Cindy Louwho
─ "L? C?caw and Samurai Pusheen visit Japan" an art install by 2k

───────────────────────────

+ + + NEXT LEVEL ACTIVITIES + + +

─ Virtual Reality Station by TEAM ERIC. Experience Virtual Reality on the HTV Vive with loads of
games and cool apps.
─ Lightbending Station hosted by Maria - Make some LED art on a digital light canvas.
─ Arcade Games and Magic The Gathering/Yugio by TEAM ERIC

───────────────────────────

+ + + TICKETS + + +

This is a 21+ Event

OG Samurai : $15 (SOLD OUT)
Tier 1 : $19 / Tier 2: $24 / Tier 3 : $29

Get tickets at www.samurai.nycr.me

$5 off at the Door if you come in costume! (if we have door tickets)

───────────────────────────

+ + + Costume Inspirations + + +

Aku, Samurai Jack, Futuristic Bounty Hunter, Cyborg, Space Gangster, Faye Valentine, Clown
Assassin, Inter-dimensional Time Travelers, Sam
Black, Cowboys/Cowgirls, Space Samurai Geisha, Ninja, Cyborg, The Scotsman from Samurai Jack,
Shokbok in a Suit!?!?!

───────────────────────────

+ + + LOCATION + + +

The Brooklyn Bazaar
150 Greenpoint Ave, Brooklyn NY

The Brooklyn Bazaar is a unique venue housed in the former Polonaise Terrace building, a historic
banquet hall and event space located in the
heart of Greenpoint, Brooklyn. This stylish building boasts a striking fa?ade and an even more
impressive interior, with four distinct rooms: the
Main Hall, Concert Hall, Lounge, and Restaurant The classy space is beautifully designed and is
complete with vintage d?cor and has a capacity
of up to 700 people.

───────────────────────────

Brought to you by...
╔═╦╦╦╦═╦╦╗
║║║║║║═╣╔╝ Raving with Honor since '07
╚╩═╬╗╠═╩╝
───╚═╝ www.NYCRavers.com

AND

█▀▀ █▀▀ █▀▀
▀▀█ ▀▀█ ▀▀█ Sounds So Sweet
▀▀▀ ▀▀▀ ▀▀▀

+ + + Dedicated to Lindsay Ireland (RIP) + + +

"The ultimate reward is honor, not awards"